April 15, 2008
Cartooning practice and Inkscape 0.46
School's out for a fortnight here at uni. Which as a PhD student who is tutoring means I get two weeks of unfettered PhD write-up time. I'm pretty worn out from the teaching and marking over the last couple of days, although it just might be lack of sleep catching up with me.
I've also noticed a few more trackings from Inkscape fans to the tutorial I made for Order of the Stick avatars. I'm guessing people need Inkscape tutorials. Once my PhD write-up is over I'll write up some more (general purpose this time).
I need some practice with the new version however. And practice in general. I'm not that much of an artist really, and my cartooning really needs some brushing up.
I've started playing around with Inkscape 0.46 by just giving it a spin in creating a character using my old techniques:
Sketch out a draft with pencil on paper.
Resketch it using the calligraphy tool in Inkscape on a draft layer
Construct the figure out of basic shapes and curves (this is the long part)
Put in any special effects, shading, corrections and what-have-you.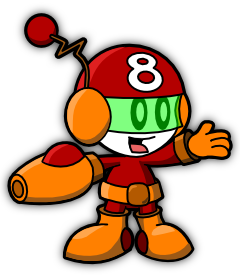 This is a pretty early concept for the character "Eight" that part of one of two ideas for a webcomic that I'd like to launch later this year. I still haven't made up my mind about the little details like colouration and accessories.
So far the process for creating this character isn't working - not because of the final output, but because it take so freakin' long to do. I don't know if it's because I'm out of practice in the whole Inkscaping, but it could just be I don't have an efficient process. To test this, I'll give making this character another go, but this time using a more traditional inking based approach - both digitially and on paper. I'm rubbish at paper inking and almost as rubbish at digital inking, but it's something I should at least try to see how it turns out.